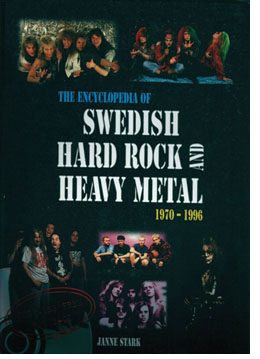 Why devote months and months into compiling information about Swedish hard rock?
Well, it all started around 1994 when I was writing for Backstage Magazine, a magazine 100 % devoted to Swedish music, initiated by Lennart "Phantom" Larsson. As both Lennart and I were dedicated collectors of Swedish hard rock/metal, he asked me to send him a list of all my Swedish records. As I had my entire collection listed in my computer, I simply excluded all non-Swedish releases and send him the scaled off list. Once I had this and with Derek Oliver's excellent international encyclopedia of hard rock and heavy metal in mind, I figured it was quite simple to add information on members, a bio etc. and I would have my own encyclopedia on Swedish bands. I bounced the idea with a label owner who though it was a great idea and wanted to back me financially.
In my quest I quite soon came in touch with Roger Holegård (Neon Rose/Wasa Express/Truck). He was working at a publishing company with music books as a speciality, Premium Publishing and pretty soon a deal was set where they would take over the whole bit, while the label would help out with the distribution and export. Another idea that popped up along the road, was to include a bonus-CD. As I'm a dedicated tape collector, I knew there were tons of previously unreleased goodies floating around. I got in touch with some of the bands who thought it was a great idea.
I had finally received loads of stuff from various bands in different genres, from the melodic side featuring Europe, Treat and Talisman, through the heavier edge with Zanity and 220 Volt, heavy funkiness with Electric Boys, seventies hard rock with November and Neon Rose, modern rap metal with Clawfinger, guitar overload with Yngwie Malmsteen etc. I also received a call from Polygram Records who wanted me to compile a triple CD with songs from each year between 1970 and 1996.
In June 1996 the book was finally unearthed. The response was truly awesome. A special printing for Japan (with soft cover) copies was made and the book has been printed in over 5000 copies. The book is since long sold out and has now become something of a rarity.