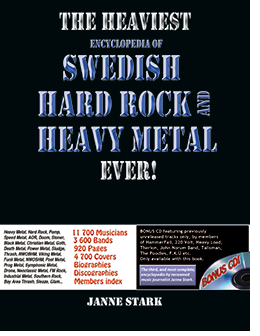 This is the final one! Yes, I know I said it after the first one and I did say it after the second one, but this time I mean it (yeah, right, just like you mean it the day after, swearing you'll never drink again…). Well, I may do it again, but not in this shape and form. This book is the mother of all, the grand opus, and the bible of my bibles. This time I have gathered all the bands from the first two books, updated and completed the information and discographies, plus added all new bands and all the ones I missed out earlier. Why would this be the last one then? Well, in the last couple of years releases have become much more difficult to categorise, in the sense that digital only albums are starting to grow and now even some label print on CD-R. So, that's why, this is the BIG one and this is the LAST one! I think…
How did I gather the information? Well, first of all, if possible, through the bands themselves, the members or the band's website, the record labels, collectors, magazine articles and I've also used a multitude of websites for information, especially on releases, labels, catalogue numbers and different pressings. These are listed on the reference page. I've also been in touch with several collectors and editors who have given me information, pics, scans, sounds etc., all to whom I'm deeply grateful!
At first my plan was to have the book out late 2010/early 2011, to make this an even "40 years of Swedish hard rock", from 1970-2010. This didn't happen, and now I've just tried to be as current as possible, hence the "Late additions" chapter. This time I have also weeded out some of the bands that snuck in, but weren't necessarily a clear case of hard rock/metal, some earlier labelled as "related". These bands have been listed in the "Peripheral bands" section. This also applies to bands that were on the verge of making it, but didn't. I wanted to include them anyway, as I've seen record dealers/traders state them as "mega rare, not even in The Book", while I sometimes excluded them since they were not heavy enough. Some bands in the book may still be "on the verge", and everyone may not agree they should be in there, but made it for some reason or another. Well, even the sun has its spots.